Motorcycle Loan - Motorbike Financing
Jade Bike Loans provide finance for a wide range of rides – from the handy get-around-town scooter, to racing track models, mid-range road bikes, off-road and motoX through to the gutsiest, most powerful, high performance models and vintage classics. We even provide loans for custom bikes.
Bike Loan Comparison Tool

Why Jade Finance?

Apply Online
The easy application process provides you with comprehensive information. Make a fully informed decision on your bikeloan.

Get Pre-approval
Save time, money, and worry - Get Pre-Approval for your finance.

Equipment Loan Specialist
With over 25 years of experience in finance, we have a reputation for negotiating great rates with same-day approvals.
Request Quote
Better Bike Loans for All Riders and All Rides
For road, track, dirt, metro, highway, endures, street and custom
Whether you're a first timer, buying your first bike and seeking your first loan or you've been riding all your life and looking to upgrade or add to your collection, Jade Bike Loans welcomes your business and will secure a great loan that suits your requirements.
Secured and unsecured bike loans
Loans for high performance motorbikes
Loans for off-road motorbikes
Scooter loans
Loans for new riders and seasoned pros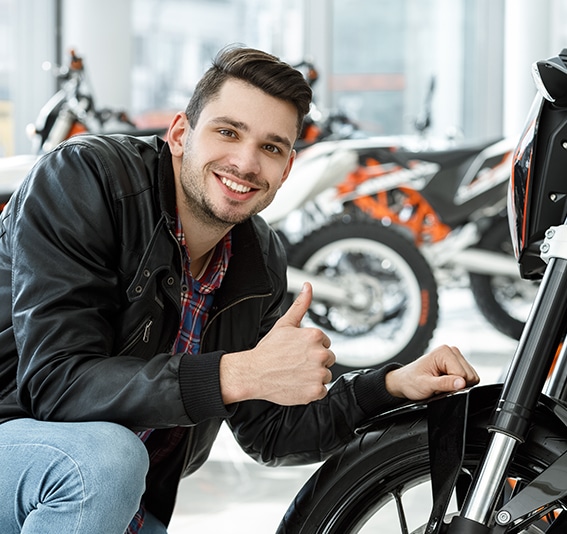 Better Rates, Better Bike Loans
Streamlined finance – we'll give you our best rates and cheaper loans the first time you ask!
Our competitive rates reflect our winning attitude – we don't like to be outdone
So we offer a cash guarantee. If you can source a cheaper finance package than our offer, we'll not only match that offer but we'll also give you $200**
The Bike Finance Broker for Private and Business Riders
Dealing with a finance broker such as Jade Bike Loans, is not the exclusive privilege of businesses and companies. We deal with private individuals and businesses and those that use their private ride for some work-related purposes such as food deliveries and general courier work. And we can arrange loans for both new and second-hand motorbikes for purchases from both dealers and private sellers.
Loans for new and second-hand used bikes – dealer and private sales
Private bike loans with flexible repayment terms
Commercial finance packages – chattel mortgage, lease, commercial hire purchase
Health and medical facility equipment to improve overall business wellbeing
No deposit options available
Give Jade Bike Loans a call even before you start looking at bikes so you are clear on all the details and confident in the knowledge that we can handle your finance requirements to the levels of performance you are expecting. Your personal Jade consultant will discuss the process with you, answer your questions and even arrange a quick quote to give you a ballpark.
Even if you have never had a loan or you have financial issues, we welcome your call!
No docs and low docs loans – handled with ease
Credit issues – we'll park them
Loads of questions to fire at us – no problem, fire away
Just want to have an initial conversation before committing – that's totally fine
If now's the time for you to invest in machinery and equipment to improve the performance of your business, give Jade Equipment Finance a call for better finance deals and better interest rates.
Better Bike Loans Powered by Better Rates
While there are many aspects to consider in the final offer for a bike, loan, essentially a better loan is powered by a better interest rate. So at Jade Bike Loans we act on the obvious to ensure you get the best loan possible for your ride – we seek the best interest rates possible. We don't just say that to impress you, like extra chrome trims, we back it up with a better guarantee as well. Consider this – go out and try to get a better loan on your motorbike than what we offer you. If you succeed, you win – we'll give you a $200** cash 'prize' AND we'll amend our offer to match the lower one you found. That's got to be a double podium deal.
Performance-based Motorbike Loans
Jade Bike Loans are built for riders who demand performance and efficiency. In sorting a loan for a new bike, many people will head straight to their bank or approach a heap of finance companies to see who's offering the best deal. But the third option, and the one that offers significant benefits – is to deal with an experienced finance broker, such as Jade Bike Loans. We act only in your interests and have the freedom to check out a much wider range of loan products for you. We can cover multiple lenders and hundreds of products, we don't have to operate to the strict guidelines imposed by banks and your credit score won't be impacted by having us approach multiple lenders on your behalf, compared with when you do that yourself. Give us a call and judge our performance for yourself.
High efficiency-rated Bike Loans
Efficiency is key to our performance in delivering you a sensational bike loan. Your Jade Bike Loans broker works on your behalf and handles all the enquiries, paperwork and details and gives you the bottom line in plain-speak with a great offer to consider. Once you have accepted the offer, we proceed to organised approval and all the details through to settlement so you can secure that ride faster. Same day approvals can even be arranged. If you're not sure exactly how much you can afford in repayments based on your circumstances, we can arrange a pre-approved loan. That means, we can sort all the details based on an estimated purchase price so you know exactly how much you can afford to pay and then look for a bike that exactly suits your budget. That's high efficiency rated service!