No Deposit Truck Finance
Achieving cheap truck finance interest rates possible is always a priority when commercial funding is required. But when 100% of the purchase price, possibly including some extras, upgrades and trailer, the loan amount may be higher and the lowest interest rate even more critical. Compare the rates we are currently achieving for heavy vehicle funding as a guide and contact us for a quote for your specified vehicle.
Compare Our Low Interest Rates on No Deposit Truck Loans

Why Jade Finance?

Apply Online
The easy application process provides you with comprehensive information. Make a fully informed decision on your truck loan.

Get Pre-approval
Save time, money, and worry - Get Pre-Approval for your finance. You'll be good to go when you find your dream truck.

Truck Loan Specialist
With over 25 years of experience in finance, we have a reputation for negotiating great rates with same-day approvals.
Request Quote
Ease Finance Pressures with No Deposit Truck Finance
Including the entire purchase price of heavy vehicles in the funding may ease pressures on operating expenses and open greater opportunities to acquire those necessary vehicles. As specialists in the heavy vehicle lending sector, we offer 100% vehicle funding as a workable, convenient option for all types of operators got
truck financing
. Eliminating the need to have funds on hand to make a downpayment. Our brokers will discuss this option with you – the upsides and considerations, and source the lowest interest rate offer to suit your specific requirements.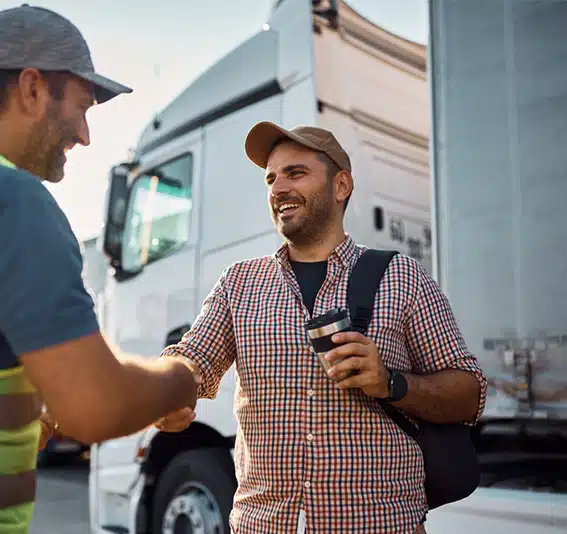 Use a Truck Finance Calculator Australia to Compare No Deposit Heavy Vehicle Finance
Using our truck loan calculator Australia can assist buyers to decide whether or not 100% vehicle credit will work for them. This device allows users to easily change the loan amount while keeping other values constant and see the change in repayment estimates. Compare the repayments for say 100%, 80% or another percentage of the purchase price and see how the monthly commitment varies. The results are estimates only, so contact us for an exact quote.
Calculate Loan

Compare 100% funding with funding less a downpayment.

Compare different commercial lending products.

Structure term and balloon to achieve repayment to suit cash flow.
No Deposit New and Used Truck Loans Available
As a basic explainer, 100% funding is including the entire purchase price of the new or used truck financing. It does not relate to an upfront payment that a dealer may request to secure the sale. Often vehicles need to be built to order or specified to customer requirements and an initial payment will be required before the vehicle can be prepared. If such a payment is requested and 100% credit required, it may be possible to have the dealer refund the initial payment when we settle the funding. Confirm this with the dealer when placing the order. We offer 100% credit options which may include the vehicle, vehicle and trailer and, subject to approval, a range of extras and accessories purchased with the vehicle. Buyers should be mindful that including the full price results in a higher total funding than with an initial payment. The outcomes may include a higher monthly repayment and greater total interest on the credit. This full purchase price option is available across our complete selection of heavy vehicle credit facilities and all types of enterprises may apply. This option is available for new and used vehicles of all sizes and configurations.
100% purchase cost funding.
Full purchase credit Chattel Mortgage, Truck Lease, Rent-to-Own, CHP.
Sole trader loans, SME, self-employed – purchase without downpayment.
Used vehicle funding with no downpayment.
Cab and trailer, cab only, all types of vehicle trailer combos.
How to Use a Truck Loan Broker to Get the Best No Deposit Truck Financing
Using a broker that specialises in heavy vehicle funding can assist operators to secure the best outcomes without a downpayment. The lending market is large and competitive and with our expert brokers handling your requirements, we quickly identify the lender that is most suitable to making you the best offer. We have over 80 lenders in our lending panel including specialists in the heavy vehicle market and specialists in certain industries.
Rates are especially critical with no downpayment credit and with honed negotiating skills of our brokers we focus on achieving that essential best rate. We'll handle the discussions and arrangements to structure the funding to best achieve your preferred monthly repayment to ensure the solution works with your cash flow. To discuss how we can assist you, connect with us via our online forms or just give us a call.
Expert, specialised truck finance brokers.
80+ Lenders – specialist no downpayment heavy vehicle lenders.
Individually handled 100% heavy vehicle funding.
Secure Your Funding with Jade.Finance - No Deposit Truck Finance Specialist
We're specialists in heavy vehicle funding with the lenders, the experience, the expertise and the resources to assist operators secure their funding. In addition to sourcing the best quote at the lowest rates, we'll negotiate for the extras to also be included in the funding, with no downpayment. Extras such as specifying the vehicle to suit certain applications; extra tech systems; additional safety systems; delivery expenses and customisation.
Our services are available throughout Australia via phone or online to enable operators working the most remote routes equal access to lower rates and workable solutions for 100% purchase price vehicle funding.
Australian brokers with 20+ years local commercial vehicle lending experience.
Australia-wide services.
Tax-optimised solutions, individually negotiated outcomes.
Get Fast Approval for Financing Truck with No Deposit
Our brokers will assist you with your application which can be submitted online or by phone. We act promptly to get fast approvals and expedite settlement for fast delivery of your vehicle.
Online applications, phone applications.
24 hour approvals.
Fast quotes, fast approvals, fast settlements.